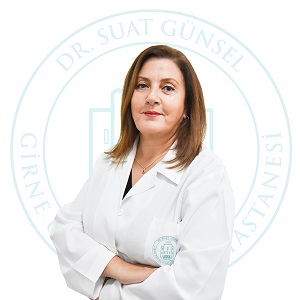 Dr. Suat Günsel University of Kyrenia Dental Hospital Oral and Maxillofacial Surgery Department Head Prof. Bahar Gürsoy, DDS PhD, provided us with information about dental implants:
What is an Implant or Dental Implant?
A dental implant is a type of tissue-compatible prosthesis made of titanium that replaces the missing tooth and its root.
Why is dental implant more popular and preferred nowadays?
Most patients complain about a non-fitting prosthesis. On the other hand dental bridge (also known as fixed dental prosthesis) involves cutting down the teeth on either side of the missing tooth which is not preferred by our patients.
Are we going to say goodbye to other types of prostheses?
Definitely not. For all prosthetic applications, each patient has specific indications. For example if there is a problem with the jaw function two or four implants are placed in the lower jaw in order to make removable prostheses. Results are satisfactory.
In which cases can implant be performed?
Prior to the implant procedure, the patient's mouth health should be carefully evaluated by their physician. Planning for dental implants focuses on the general health condition of the patient taking into account the age factor. Some cases require additional surgical procedure.
What are the stages of the procedure?
The Implant team should consist of a gum disease specialist, a maxillofacial surgery specialist and a dental implant specialist. The preparation of the implant procedure is started first by performing panoramic and volumetric dental tomography of the patient. The results of cross-sectional imaging of jaws and bones are important in the planning of the dental implant placement.
What are the additional surgical producers?
In some cases sinus lift (a surgery that adds bone to upper jaw), bone augmentation or bone distraction is required.
So you can solve almost any problem?
Yes except some special cases we can perform dental implant but cooperation of our patients is a very important factor. Implant placement cannot be considered as a suitable option for some patients. In these cases we prefer most contemporary and aesthetic prosthesis applications.
Do these producers require local anaesthesia?
Yes, we can perform most of them with local aesthesia, but we can also perform sedation or general anaesthesia according to the type of operation and the patient's condition.
How long does the implant treatment take?
The answer to this question varies from person to person, the length of time for healing (integration) is 4-6 months in the upper jaw (depending on age and bone condition) and 3-6 months in the lower jaw. Once the implant is well integrated a replacement tooth will be attached.
What do you recommend to our patients?
Our patients are the most important members of the implant team. Before any work is done, they should visit a specialist to make a decision within the framework of the preliminary information. The important part of decision making during the implant treatment should not be the cost, patients should focus on receiving the most appropriate treatment and the best results. Most importantly, patients must have regular check-ups after the implant and prostheses procedure.