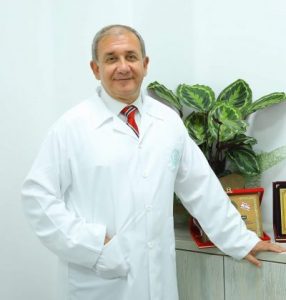 Dr. Suat Günsel University of Kyrenia Hospital has closed the significant gap in the Kyrenia region in terms of quality health services and also starteda health tourism initiative in our country when it startedproviding serviceson 15th of November 2016 with its technically advanced superior equipment and experienced staff.
Our hospital has been designed within the University of Kyrenia campus to be integrated with the Faculty of Medicine and Health Sciences and student lecture halls, and in an area of approximately 15,000 m2, in a layout that prioritizes patient and employee health and safety. With the smart hospital automation system installed, continuous environmental and patient safety, patient comfort, medical information sharing and security are provided and constantly monitored.
Constructed based on the concept of a boutique hospital and with a total capacity of 150 beds, Dr. Suat Günsel University of Kyrenia Hospital has the feature of being the most well equipped and technological hospital on our island in many fields with its advanced technological equipment.
The main departments on the ground floor of our hospital, which has four floors, are the operating rooms, intensive care and sterilisation centres established in an integrated plan within full and semi-sterile areas. There are three operating rooms in our hospital, one of which is suitable for cardiovascular surgery. The operating theatres are covered with a special acrylic inner surface that will make cleaning and disinfection easier. Each operating room is equipped with a computer system that includes high-resolution medical monitors, which are integrated into the hospital operating system, where all necessary information including the radiological tests of patients can be observed during operations. Again, in the operating rooms, there are state-of-the-art anaesthesia and compact pendant systems and special lighting systems that do not shadow the operation area. These operating rooms, where all kinds of surgical operations can be performed successfully and effectively, are accompanied by a fully sterile reanimation department where both pre-surgical preparation and post-surgical care of 3 patients can be performed at the same time.
There are a total of 15 intensive care beds and 2 isolation rooms in 4 intensive care units integrated with the operating rooms. These intensive care units consist of 4 departments: paediatric, cardiovascular surgery, cardiology and general intensive care. In the cardiology intensive care unit, there is a double-arm angiography system with 360-degree rotation image capability that allows both cardiological and neurovascular interventional procedures to be performed. Integrated with the paediatric intensive care unit, there is a fourth operating room (delivery room), where all kinds of gynaecology surgeries and delivery can be performed, similar to the above-mentioned operating rooms, and a labour room where prenatal monitoring and intensive care functions can be performed for two people. We also have an endoscopy-colonoscopy-bronchoscopy centre established in a semi-sterile area within the operating room complex.
All operating rooms and intensive care units have compact pendant systems that eliminate cable and catheter confusion at the bedside and a computer system that enables smart bedside monitoring and electronic patient monitoring. This area has fully and semi-sterile sections, equipped with a special hygiene-type fully filtered air conditioning system that minimizes cross-infection or hospital-acquired infections, and an acrylic inner surface covering that provides full sterility and an intelligent and controlled entrance system that ensures its protection.
Other centres located on the ground floor of Dr. Suat Günsel University of Kyrenia Hospital include: biochemistry, microbiology and pathology laboratories and a blood bank within the central laboratory. Our Cardiology and Cardiovascular Surgery departments and echocardiography, electrocardiography, blood pressure and rhythm Holter systems and cardiac effort test systems are located in the CardiacCentre, which is located between the emergency service and the cardiology intensive care unit so it can be accessed by both departments. In our Physical Therapy and Rehabilitation centre, there are treatment and rehabilitation rooms and a hydrotherapy unit next to the polyclinic. In our dialysis centre, there are a total of 5 dialysis machineswhere 4 are reserved for normal patients and one for infected patients. In our fully equipped Emergency Service, which provides services on a 24/7 basis in our hospital, there are 2 examination rooms, 4 observation rooms and an isolation room, as well as triage, animation and intervention rooms.
Our Radiology department, also located downstairs, is a completely digital department that works with low dose radiation. With the smart technological solution established in our hospital, besides the radiographic devices that will give the minimum dose to the patients during the shooting, a correct dose application is made that continuously measures and follows the radiation emitted from these devices and allows us to correct the device and user errors in the system when necessary, protecting the patients and employees from unnecessary radiation.
With the 64-channel 3 Tesla Magnetic Resonance device that can only be found in a limited number of centres around the world, detailed basic and advanced MRI examination of the body, liver fat and iron measurement, breast and prostate spectroscopy outside the brain, and whole-body diffusion and tumour burden monitoring can be performed on oncology patients.
Our aim is to detect breast cancer cases in the country at an earlier stage with the digital tomosynthesis mammography system, which is one of the newest and most important opportunities offered by digital technology and can be defined as a 3-dimensional form of mammography that can make early diagnoses. Thanks to the 3-dimensional tomosynthesis feature, which can transform images taken at standard mammography dose into serial images with a thickness of approximately 1 mm and create new images in different plans from these images, it is possible to detect lesions in the breast in a smaller size and earlier.Thus, the diagnostic efficiency of screening mammography is increased, especially in large and dense breasts. In addition, with 3-dimensional stereotactic biopsy and breast marking capability, more effective and safe pathological diagnosis and surgical removal of lesions in the breast tissue can be provided. Thanks to the 'Prime' feature of the device, it can shoot at a 30% lower dose without any change in image quality.
With the double-tube and double-detector multi-slice tomography device installed on the island for the first time, it is possible to obtain contrast-free series with dual-energy shots made by extracting two different X-ray doses from two tubes, and then by extracting the contrast. In this way, it is possible to shoot in a shorter time and with a lower dose and using less contrast material. With this device, which has a very short scanning time, better quality images can be obtained in a single heartbeat, such as coronary CT angiography. In a standard CT device, approximately several hundred times the dose of a chest radiograph is given in a chest CT scan, while a CT scan is performed at doses close to a chest X-ray in this system. Along with special paediatric dose and scanning protocols for children in the system, special bismuth protective equipment can be used for eye, thyroid, breast and gonads to scan with maximum protection and minimum radiation.
Apart from standard digital radiography with digital radiography and fluoroscopy devices, special shots such as scoliosis, medicated kidney, gastrointestinal and uterine shots can also be performed at low doses. With digital mobile radiography systems, high-quality images can be obtained at low dose limits with mobile devices capable of shooting in the patient bed and emergency units with the C-arm digital radiography system in the operating room environment, which can be transferred to the PACS system as soon as they are taken through the WiFi system installed in the hospital and fluoroscopically with the moving images obtained as a video, and images of operations can be recorded as video.
Systems that havecolour and Power Doppler features enable the diagnosis and differential diagnosis of soft tissue lesions, local lesions such as tumours, cysts and cases that commonly involve the tissue such as cirrhosis, local or diffuse elasticity changes (hardening) in the tissue can be detected, especially in the breast or intra-abdominal area, while also increasing the ability to recognize organ and muscle diseases earlier and to make differential diagnosis of detected lesions.
With the biplane double tube and dual detector digital angiography device, an ideal environment is created for neurovascular interventional procedures such as stroke and aneurysm treatments, as well as for low-dose radiological and cardiological imaging. Diagnosis and treatment of vascular diseases are successfully performed with the 3-dimensional rotational angiography technique, which the device offers, and the details of even the thinnest blood vessels can be observed.
On this floor, there are also 4 classrooms for 120 people, a dining hall for 200 people, a clinical pharmacy, normal and cold storage, call centre, administrative departments, morgue, laundry and other technical service rooms with special sound insulation.
Internal Medicine, General Surgery, Paediatric Health, Obstetrics, Urology, Neurology, Brain and Nerve Surgery, Chest Diseases, Nutrition and Dietetics, Eye, Skin, and Ear-Nose-Throat Departments, all of which have special medical gas systems and necessary medical equipment, are located on the ground floor of our hospital. There are also Infectious Diseases, Plastic and Reconstructive Surgery, Orthopaedics outpatient clinics, Family Medicine, Check-up, EEG-EMG, NST and Audiometry centres.
The last two floors of our hospital consist of patient wards, where the first floor is for general patients and the second floor is reserved for surgical patients. All of our rooms on the first floor have a telemetry system where we can continuously monitor the cardiac functions of our patients. All of our rooms are single rooms that are equipped with central air conditioning and smart hospital automation systems. With the smart call and patient monitoring systems in our rooms, our patients are monitored and treated safely in peace.
With its superior technological capacity and selected faculty members, each highly experienced in their field, at Dr. Suat Günsel University of Kyrenia Hospital, our patients are provided with a world-class health service that makes the need to travel to another continent obsolete.
Prof. Dr. Nail Bulakbaşı
Chief Physician