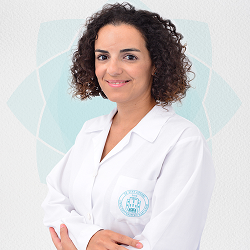 Dr. Suat Günsel University of Kyrenia Hospital Neurology Specialist Pınar Gelener Arsal mentioned that cerebrovascular disorders or commonly known as " stroke " is the second most common cause of death and defectiveness and also stated that the term " stroke " represents the sudden occurrence of it. Arsal mentioned that 17 million people experience stroke every year and 6 million people dies from it and according to the statistical data, she stated that every 40 seconds, someone is suffering from a stroke.
Neurology Specialist Pınar Gelener Arsal informed about May 10 World Stroke Day and mentioned the following:
The 'Global Stroke Bill of Rights', which was prepared for prevention and treatment of stroke disease and first announced at the World Stroke Congress in Istanbul in 2014, emphasizes the importance of both basic human rights and patient rights. The declaration contains information such as informing the community about stroke symptoms, stroke patients having access to effective treatment quickly, social opportunities after stroke, and the rights to access rehabilitation treatment.
IN STROKE TREATMENT, THE MOST IMPORTANT FACTOR IS GETTING TREATMENT AS FAST AS POSSIBLE
Stroke requires a fast treatment. In stroke treatment, the most important factor is getting treatment as fast as possible. in recent years, in order to lay emphasis on the importance of early treatment, slogans such as " Time is Brain " and " Waste of Time is Waste of Brain " are used in our country as is all around the world. Every minute wasted causes millions of dead brain cells. Waste of time is waste of brain, waste of brain is waste of life. Because brain is life.
IN OUR UNIVERSITY, THE ACUTE TREATMENT OF OUR PATIENTS IS DONE ACCORDING TO THE MOST RECENT TREATMENT GUIDELINESS
In our university since 2017, the acute treatment of stroke is done according to the most recent treatment guidelines published by Turkish Neurological Society and European Academy of Neurology and according to the treatments used in leading stroke centres all around the world.
In this context, after the Anticoagulant Medicine is given in the first 4.5 hours of the onset of stroke symptoms, our interventional neuroradiologist treats the suitable patients in our angiography suite using a catheter, and perform the operation called " stent mediated thrombectomy " which is basically an operation where clogged brain veins are restored using a stent. The stroke symptoms of the patient must be determined within the first 4.5 hours in order to treat them with Anticoagulant Medicine while the time for endovascular interventional therapy is 6 to 9 hours depending on the location of the stroke. Recent studies have proven that this period can be extended to up to 24 hours in appropriate groups of patients.
Because of this, it is of grave importance that the symptoms of stroke must be known by the society. In this context, the joint study of TRNC Ministry of Health and Cyprus Turkish Neurology Association known as " Recognize the stroke " public service announcement ( Figure 1 ) and information spots for European and American algorithms used in stoke ( Figure 2 ) are listed below.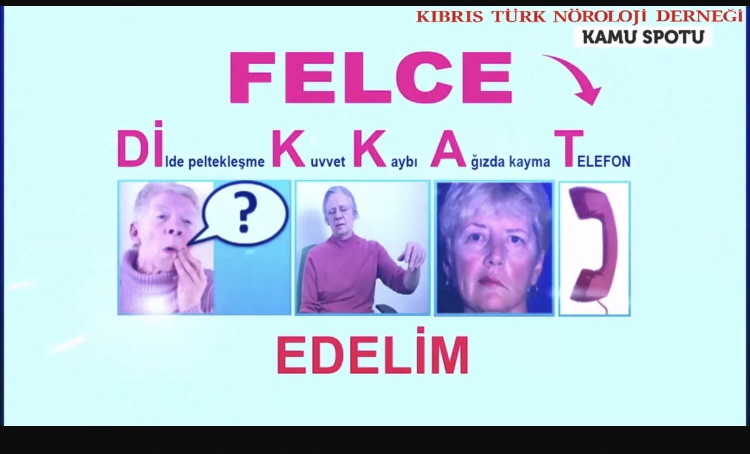 Figure 1 Pay attention to paralysis
Impediment
Loss of
Strength
Mouth drooping
Phone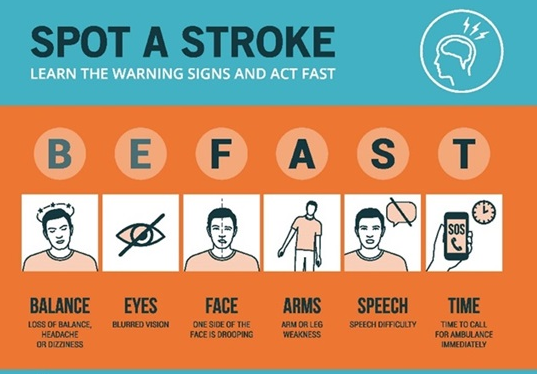 Figure 2 BE FAST
Sudden loss of BALANCE
Temporary blindness in one or both EYES
Mouth drooping
Loss of strength in arms ARMS and LEGS
SPEECH impediment
REACH the hospital as fast as you can