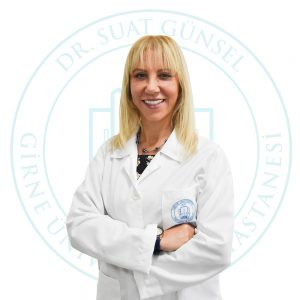 Dr. Suat Günsel University of Kyrenia Dental Hospital Operative and Restorative Dentistry Specialist Prof. Şölen Günal MD., stated that restorative dentistry involves prevention of oral diseases and smile aesthetic. Besides tooth decay, it also covers treatment options for shape, tissue and form disorders such as dental erosion, tooth sensitivity, tooth discoloration, chipped or broken tooth.
Prof. Şölen Günal MD., stressed that these treatments are performed with the use of white aesthetic fillings, porcelain fillings and laser technology, whitening and porcelain laminate and composite applications.
Günal stated that; "smile design developed for aesthetic purposes with the help of the latest approaches requires minimum tooth structure removal. The smile that we create should be both aesthetically pleasing and functional. As dental professionals we should provide the best aesthetic treatment to our patients through right diagnosis and treatment. "
Dr. Suat Günsel University of Kyrenia Dental Hospital Operative and Restorative Dentistry Specialist Prof. Şölen Günal MD., stated that composite and porcelain laminate restorations can be used for these purposes and answered the following questions about this subject:
What is composite laminate, in which cases and how is it applied?
Composite laminate is a treatment option that includes correction of minor dental deformities without damaging the teeth. The treatment involves use of composite material that matches tooth colour of patient, sculpting a bounding material to replace the missing tooth structure and gives the appearance of a healthy tooth.
The construction of the composite laminate usually does not require anaesthesia and can be easily repaired and polished. It can be applied easily for all age groups and the process can be performed again in the future. This procedure does not require additional laboratory procedures; therefore it can be performed in one session (depending on the number of teeth which will be treated).
What is a porcelain laminate?
Porcelain laminate is prepared as porcelain leaves with a thickness of 0.3 – 0.7 mm, which is placed on the front surface of the teeth in the form of the desired shape and colour. In cases such as antibiotic discoloration which cannot be treated with whitening, in the treatment of genetic dental abnormalities and tooth discoloration, the correction of the colour and form of the impaired front tooth restorations, in the treatment of broken and worn tooth, the porcelain laminate treatment can reveal the desired aesthetic results.
It can be completed in a short period of time for patients who do not need canal treatment or a gum operation. It is similar to the natural tooth and it can mimic the tooth enamel with its light transmittance, shape and colour properties. During the porcelain laminate applications, a very thin enamel layer is prepared from the front surface of the tooth.
In some cases (minor perpendicular, discrete teeth) it is a successful alternative to orthodontic treatment. The risk of fracture is very low as long as the parafunctional habits (nail biting, pencil biting etc.) are avoided.
Due to the improved surface properties, some products (tea, coffee, tobacco products etc.) do not change a lot of colour unless their consumption is too high.
Porcelain laminate can provide a satisfactory treatment option up to 10 to 20 years with appropriate indication, application and good oral care.