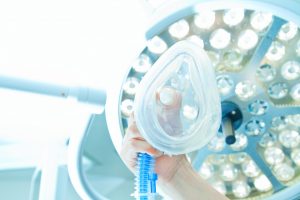 Dr. Suat Günsel University of Kyrenia Hospital Department of Anaesthesia consists of physicians and technicians who have completed their specialisation educations, can utilize advanced medicine technology and help the patients to go through the operation process safely to recover with their knowledge and skills.
Dr. Suat Günsel University of Kyrenia is a university hospital where surgical operations which requires special anaesthesia methods both for children and adults. Our anaesthesia department has an experienced team who can successfully carry out general, local or regional anaesthesia for all operations.
Anaesthesia
The term "anaesthesia" means "numbness, insensitivity." The medications given for anaesthesia provides numbness and also, you do not feel any pain and do not remember anything.
Your anaesthesia specialist will stand by your side during the whole operation, monitoring all your living functions like respiration and circulation, and intervening if necessary to apply the required medical treatment.
The anaesthesia specialist has an important role for treating the post-operative pain and for overcoming this period with ease and comfort.
Before the Operation;
The physician in our anaesthesia department first visits every patient before the operation in the anaesthesia polyclinic (or in their room if they are an inpatient.)  The anaesthesia specialist will examine the patient in detail and demands the extra analysis and consultations if necessary. The specialist determines the most appropriate anaesthesia method in accordance with the condition of the patient and the operation to be made and explains what is going to be done to the patient.  If the patient has any questions the specialist will answer them. Again, if the anaesthesia specialist deems necessary, the required medications will be given to the patient before the operation.
During the Operation;
The anaesthesia specialist will give you the anaesthesia medications in order to prevent you from feeling any pain and remembering anything during the operation.
Checks your heartbeats, blood pressure, respiration and your heart and lungs for the living functions and if necessary, intervenes and applies the required treatment.
Again, during the operation the anaesthesia specialist monitors your blood values and if it is required to give you serum or similar liquids, blood and blood products transfusion are responsibilities of the anaesthesia doctor.
The anaesthesia specialist provides that all your functions are intact and he/she stays with you from the beginning to the end of the operation.
The surgeon knows that the anaesthesia specialist takes care of you during the operation and focuses only on the surgical operation.
After the Operation;
After the surgical operation is complete, it is now time to awaken the patient.
The anaesthesia doctor monitors the surgical process and as the operation is completed, regulates the dosage of the anaesthesia medications.
Also, in order for the patient to get rid of the effects of the medications and not feel any pain after the operation, undertakes the preparation of necessary treatments.
After you wake up in the operating room, you will be taken to the recovery room. In the recovery room we can both monitor and treat the unwanted effects of the anaesthesia medications like nausea and vomiting and regulate the necessary treatments for controlling the post operation pain.
Diagnosis and Applications
Painless Labour
Local anaesthesia
Local Nerve Block
Pain control with local methods
Epidural anaesthesia
Epidural and spinal catheter application
Epidural and spinal combined anaesthesia
General anaesthesia
Local anaesthesia
Spinal anaesthesia