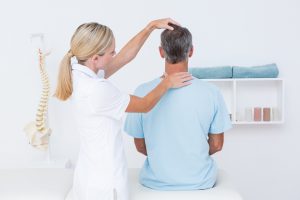 Physical Medicine and Rehabilitation (PM&R) is a speciality in medicine which aims to help individuals with physical impairments or disabilities or the individuals who have the possibility of having these conditions to regain their functionality as well as increase their quality of life.
Physical Medicine and Rehabilitation Specialists (physiatrists) receive 6 years of Faculty of Medicine education followed by 4 years of education in the branch of Physical Medicine and Rehabilitation and are responsible for muscles, bones, joints, soft tissues and the diagnosis and treatment of various nervous system diseases.
Amongst these diseases there are degenerative and inflammatory musculoskeletal system diseases (such as rheumatoid arthritis, ankylosing spondylitis, psoriatic arthritis), soft tissue rheumatism, osteoporosis, traumas of local muscle and soft tissue, neurologic diseases (stroke, spinal cord injuries, head trauma, multiple sclerosis, Parkinson's disease, peripheral nerve injuries, facial paralysis, congenital and genetic muscular diseases), orthopaedic diseases (fracture, subluxation, joint prostheses, amputations) sport injuries and rehabilitation of diseases which affect the central nervous system.
Any deterioration or loss of physical functions caused by any reason, will affect the quality of life negatively, no matter how small.
The aim of all the treatments that we performed in this direction is to restore the functions of the musculoskeletal system that are lost completely or have lost their efficiency.
To treat a physical impairment of the body and to restore it to the previous state: Methods such as medical treatments, injection treatments or hot-cold physical therapy agents, electrotherapy agents, hydrotherapy, manual treatment, personal exercise and rehabilitation are being used.
At the Department of Physical Therapy and Rehabilitation the specialists approach musculoskeletal system problems, neurological diseases, acute and chronic problems like chronic pain as a whole. Moreover, they provide the prevention, diagnosis, treatment and rehabilitation of medical conditions which could cause disabilities in all age groups. Physical therapy programmes specially prepared for each patient by Physical Therapy and Rehabilitation specialists are performed by physiotherapists.
We are right there with you on your first step towards a painless, free and happier life with the programmes applied in our Physical Therapy and Rehabilitation centre.
Devices in Our Physical Medicine and Rehabilitation Unit:
Ultrasound
Short wave diathermy (SWD)
 Analgesic (pain relief) flow (TENS, Interferential flow, vacuum interference, diadynamic flow)
Electric stimulation
Laser
Infrared
Hot/cold packets
Paraffin wax (for hands and feet)
Pneumatic compression device
Turbid pool (for arms and legs)
Four cell galvanic bath
Cervical (neck) and Lumbar (lower back) Traction
ESWT (extracorporeal shock wave therapy)
Tilt table
Standing frame
Weight lift device (Bioforce)
Magnetotherapy
Arm ergometer, hand dynamometre
Exercise bicycle
Spool system, shoulder wheel, finger ladder
Theratube and theraband
Weight sets
Parallel bar
Exercise ladder
Exercise and Pilates balls
Walking aid equipment (walker, canadian, crutches)
The following patient groups are served in our Physical Therapy and Rehabilitation centre:
Lower back and neck pain (back hernia and arthritis, rheumatoid diseases etc.).
Lower back pain protection and education (lower back school), exercise programme.
Painful discomforts in the shoulder, elbow, back, neck, hip, knee, foot, ankle, and sole regions, (meniscus, plantar fasciopathy, joint arthritis, muscle tear in shoulder).
Back pain and muscle spasms (fibromyalgia, myofacial pains, muscle contractions).
Knee, elbow, wrist, hand joints and soft tissue disorders (trigger finger, tennis elbow).
Joint swelling, pain and limited movement along with rheumatismal diseases treatment and rehabilitation.
Ankylosing spondylitis.
Osteoporosis (bone deterioration) prevention, education and exercise programme.
Spine curvature (bad posture, scoliosis, congenital or postnatal developed).
Joint movement limitation due to breaks or other orthopaedic causes.
Pre and post knee and hip prosthesis surgery.
Movement limitation caused by sport injuries.
Rehabilitation after tendon and neurotomy.
Peripheral nervous trap neuropathy (radial nervous paralysis, carpal tunnel, tarsal tunnel syndrome etc.).
Rehabilitation of neurological diseases (stroke, Parkinson's, multiple sclerosis, other muscle and nerve diseases etc.)
Facial paralysis.
Musculoskeletal system diseases and exercise programmes for pregnant women.
Other Surgical Interventions Performed In Our Clinic:
Dry needling
PRP applications
Injections with Ultrasound
Nerve entrapment injections
Muscle-joint-soft tissue injections
Painful region injections
Ozon treatments
Injections under scopy for back-neck hernia
Injections under scopy for hip-shoulder and feet
Facet joint injections
Medial branch blocks and RF applications
Kinesiotape applications