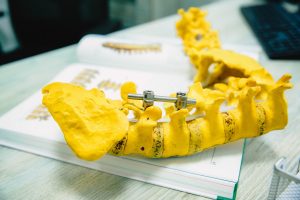 Our clinic; detects Brain and Nerve surgery related diseases in a very short time via high technology devices such as magnetic resonance imaging (MRI), computerised tomography (BT), and PET BT and it is possible to medically and surgically intervene without any delay.
Our Brain and Nerve Surgery Clinic which is accepted as a multidisciplinary approach works together with the neurology, neuroradiology, general surgery, anaesthesia, reanimation, internal diseases, paediatrics and orthopaedics branches when dealing with patients, this clinic serves the inpatients, polyclinics and emergency service (24/7). Surgical and microsurgical interventions are successfully carried out in our fully equipped operating theatres.
Brain Haemorrhages: It is a severe disorder caused by hypertension, aneurysm, brain arteriovenous malformation (AVM), and trauma. It is a serious life-threatening disorder and can cause severe disabilities. Patients with this disorder are monitored closely in ICU and are intervened surgically without delay if the need arises.
Just as aneurism (air bubble in the brain vessels) patients can be surgically treated, patients who are not suitable for surgery can also be treated through endovascular intervention, using a special catheter going through the groin.
Brain Tumours and Myeloma: Surgical treatment is applied to children and adult patients who have tumour growths in their nervous system or neurologic discomfort caused by cancer. Our patients at our clinic are treated with a coordinated approach of multidisciplinary in neurology, endocrinology, radiation oncology, medical oncology and neuropathology departments with great perfectionism following the decision of the most suitable course of treatment.
Paediatric (Childhood) Brain and Nerve Diseases: All neurosurgical diseases encountered in infants, children and teenagers can be examined and treated. The surgery of the diseases that are diagnosed before or after birth such as meningocele, myelomeningocele, split cord malformation, diastematomyelia, hydrocephalus (brain hydrocele), craniosynostosis, Arnold-Chiari malformation, Dandy-Walker cysts are done by using new technology in the best way.
Spinal and Cervical Hernia: The decision for the most suitable treatment is made by focusing on all spine related problems from the neck to the waist (pain, Trapped nerve, Spinal and Cervical Hernia, spinal cord compression syndromes etc.) Most advanced technological facilities within our hospital are used for correct diagnosis and treatment.
Calcifying of the Spine: The spondylosis occurring in the neck, body and waist spine is usually caused by aging and results in numbing in arms and legs of the patients, difficulty in walking and pain. The diagnosis and treatment of this disease is performed within our clinics, also, the patients with spondylosis is treated with microsurgery intervention.
Pain Treatment: Pain treatment through injection can be applied in hernia cases to patients too old for surgery or in overall critical health but who does not benefit from medication. In this treatment anaesthesia is applied to the tail end and spine region followed by injections given through special methods.
Deformity (Scoliosis and Kyphosis) Adult deformities which are caused by either childhood deformities or an ageing spine, can be treated at our clinic with the latest technological equipment and microsurgical methods.
Peripheral Nerve Diseases: Nerve wounds that have been made by sharp objects or peripheral nerve trapping and obtuse peripheral nerve traumas that appear in different areas of the body can be treated with microsurgical methods.
Mechanic Problems of the Spine (Instability): Mechanic problems of the spine caused by either trauma or ageing are treated at our fully equipped operating theatre with high technological devices.
Emergency Services: 24/7 service for patients who come to emergency service with complaints is provided and they can be examined and treated by a neurosurgeon. The patients examined in the emergency service can be transferred to the clinic if needed. If the patient is in critical condition, they can be transferred to the intensive care unit which can offer tertiary care services and if necessary, surgical intervention can be performed without delay. Physical therapy and rehabilitation service is also offered to our patients in the follow-up of their treatments.
Trauma and Intensive Care: Patients who suffered heavy trauma such as car accidents and falling as well as patients who need close monitoring post operation such as tumour, brain haemorrhage and severe brain surgeries are treated in intensive care.