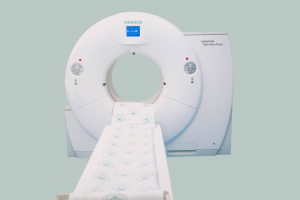 Dr. Suat Günsel University of Kyrenia Hospital Department of Radiology is able to perform all diagnostic and interventional radiological application thanks to the advanced technological facilities. In Dr. Suat Günsel University of Kyrenia Hospital Department of Radiology, all digital images obtained from all digital technological systems are stored digitally. They provide a more detailed view, less examination time, better images for diagnosis compared to conventional methods, and these results are evaluated at special workstations by expert physicians. Our centre has all the modern facilities a radiological clinic can have.
Digital Radiography (DR)
Digital Fluoroscopy (DR)
Digital Tomosynthesis Mammography
Digital Mobile DR Devices
Digital C Armed Mobile DR Devices
Coloured Doppler Ultrasonography
Multi-detector Computerised Tomography
(2 x 128 section)
Magnetic Resonance Imaging, 3 Tesla,
64 channels)
Biplane Digital Subtraction Angiography (Dsa)
Interventional Radiology
Direct Radiographic Analysis
All radiological analyses are digitally obtained directly via DR systems. All routine and special direct graphy examinations (scoliosis, cephalometric etc.) We provide bedside radiography via mobile DR devices to our patients if necessary. All Digital DR Systems operate with low dosage radiation and the radiation emitted from these devices are regularly monitored even allowing correction of user error by using a correct dosage application preventing the patients and workers from receiving unnecessary radiation.
Digital Fluoroscopy Examination
Dynamic examinations of medicated or non-medicated digestive and excretory systems are done via digital fluoroscopy systems.
Any digestive graphies under the umbrella of fluoroscopy (oesophagus, stomach, duodenum, intestinal and double contrast colon graphies), urological radiological tests (IVP) hysterosalpingography (HSG) and fistulography.
Digital Tomosynthesis Mammography Examinations
A new technology in breast screening, Digital Tomosynthesis Mammography has become the new screening standard in breast disease diagnosis.
Different from classic and digital mammography, this method allows low radiation dosage while performing volumetric scanning, making it possible to catch small lesions in earlier stages by forming small section images.
Digital Tomosynthesis Mammography Distinct Features
Low testing span.
Low radiation.
Allows small section imaging.
Microcalcifications and small lesions can be discovered in early stages.
A more detailed examination for dense and fibrocystic breast tissue.
Ultrasonography and Doppler Ultrasonography Examinations:
High resolution and perfect image quality of advanced ultrasonography devices makes diagnosis easier. Our latest technology ultrasonography devices are providing services in special rooms.
All ultrasonography examinations and interventional procedures with the assistance of ultrasonography devices are offered in our department.
Thanks to the elastography feature of our devices, diagnosis of soft tissue lesions are easier and more effective.
Pregnancy ultrasonography and coloured 4D screening is offered.
Computerised Tomography (CT) Examinations:
Dr. Suat Günsel University of Kyrenia Hospital offers services with a system that allows quick results with low radiation and minimal contrast material:
Allows quick results with low radiation and minimal contrast material use.
Able to scan the heart and coronary arteries without being affected by the pace of the heart bloodlessly, the duo tube and duo detector multi sectioned tomography device, offers vascular structures, heart anatomy and function examinations with minimal radiation dosage to the patients.
Also it is possible to examine all parts of the body and tissues in three dimensions with millimetric sensitivity.
All angiographic procedures except for heart are performed without intervention with a single injection of contrast (opaque) material within a single hold of breath.
This way many diseases such as aneurysm, narrowing of the veins, vascular occlusions and embolisms can be diagnosed quickly and easily, mapping all veins in 3 dimensions.
It is an easier and quicker method which removes hospital stay time all together.
All three dimensional examinations and high reconstructive technologies, any area and system can be scanned in three dimensions.
Dual tube dual detector multi sectioned tomography device literally emits two different x-ray dosage from two tubes taking dual energy scans with the contrast, later removing the contrast resulting in uncontrasted series.
With the specialised paediatric dosage and scanning methods in the system for children, eye, thyroid, breast and gonad with protective bismuth equipment to offer maximum protection and minimum radiation during scans.
In short;
Faster scanning, higher resolution and 3D imaging
High quality CT-Angiography (Cerebral, karotis, aortography, peripheral angiography)
Coronary CT-Angiography and Calcium Scoring
Quick scanning of large areas of the body
Quick and successful etiology scanning for patients who come to the Emergency service with chest pain (Early diagnosis of aorta dissection, pulmonary emboly, pneumonia etc.)
Magnetic Resonance Imaging (MRI)
Dr. Suat Günsel University of Kyrenia Hospital offers service with devices that equipped with wraps and programmes for every region of the body;
Brain, eye, inner ear and ear structures, pituitary, jaw joint, brain artery and venous system scans aimed at the head in general
Synthetic MR Imaging
Neck structure, throat, pharynx, salivary glands, tongue and surrounding structures
Lung, heart and heart related big blood vessels
Functional Cardiac (heart) Imaging
Coronary MR-Angiography
Cardiac Perfusion Examination
Abdominal organs, lower abdomen region (pelvic region)
Neck, back and waist region spinal pathologies
Evaluation of limbs and joints such as shoulder, arm, elbow, wrist, hand, hip, femur, knee, leg, ankle and foot
Whole body angiography
MR-Spectroscopy
Whole body diffusion imaging
Perfusion MRI with brain contrast (DSC) and without contrast (ASL)
Brain diffusion and diffusion tensor imaging
Functional Brain MRI examinations
MRCP (gall bladder, mapping of gall bladder path in detail with MRI)
MR-pyelography (MR-Urography)
BOS currents
Kinematic examinations
Whole body metastasis scanning
Dynamic tissue (lung, breast, tumour) MRI examinations
Localised MR-Angiography Examinations
MR-Angiography Examinations without contrasts.
Digital Angiography
Dr. Suat Günsel University of Kyrenia Hospital offers latest standard neurovascular interventional Radiology procedures with the Biplane Digital Subtraction Angiography (DSA) device installed in 2017.
Neuroinvasive procedures are performed alongside of 3D rotational evaluation, in peripheral vascular structures examination arterial systems of both legs can be scanned of the whole trace with just one contrast.
Neuroinvasive Interventions;
Any cerebrovascular angiography test
Karotis narrowing treatment by placing stents
Stroke intervention by removing embolism and opening clogged veins
Endovascular method for aneurysm and AVM treatment.
In Vascular Procedures;
Any arteriovenous angiography examination
Treating narrowness with peripheral artery intervention and opening clogged veins.
Inserting and permanent dialysis catheter via Central venous method.
Renal arteriovenous fistule embolisation is performed.
Via Percutaneous Method;
In case drainage catheter needs to be inserted for biliary intervention or stent insertion.
Inserting nephrostomy catheter via renal intervention.
Interventional Radiology
Interventional Radiology procedures are divided into three groups called vascular, non-vascular and neurovascular procedures.
Non-vascular interventions include methods which enter through the skin and are performed alongside of ultrasonography or CT.
The most common procedures via this method is fine or thick needle mass biopsies and percutaneous drainage.
In addition to these, biliary tract intervention (dilatation, catheterisation and stenting) and nephrostomy to ease the kidney in case kidney tubes are enlarged.
Venous laser application can be considered as one of the methods of percutaneous procedures to treat varicosis and venous blood vessel insufficiencies.
Vascular interventions are procedures aimed at narrow venous or clogged veins. Narrowing or sudden clogging in structures leading to kidney or intestines, can be treated with angioplasty or stents.
The most common invasive procedures into the vena is putting permanent catheter into Port or dialysis patients.
This way the dialysis patients can easily use the dialysis machine and cancer patients can receive chemotherapy.
Neurovascular interventions are performed in our hospital to treat brain and vein system angiographies along with frequent karotis narrowing treatment stents for patients, early stage patients with stroke or paralysis complaints or brain Haemorrhages due to aneurysms.