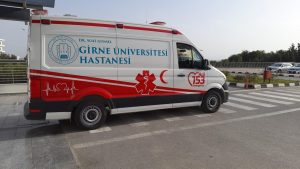 Dr. Suat Günsel University of Kyrenia Hospital Emergency Service has an efficient role in diagnosis and treatment of our patients who visit us with various complaints.
Our emergency service has a green field, monitored observation field and resuscitation field which are in accordance with the international emergency service standards and procedures. It serves with one emergency medicine specialist, four emergency service physicians and fifteen paramedics.
In order to provide the proper diagnosis and treatment for any kind of condition in our emergency service, we have a patient centred approach in collaboration with experienced health professionals and physicians.
In case of need, radiological examination equipment's and laboratory services like consultation, X-ray, computer assisted tomography, ultrasound and MRG are 24/7 available in our emergency service.
Our patients and their relatives can easily access the emergency service using the entry of the service next to the main entrance of the hospital.
There is a modern, clean and a comfortable waiting room in the entrance of the emergency service. We provide the consultation service to patients and their relatives at this room and if it is necessary, we guide the patients to the related departments.
There is also a free of charge car park in front of the entrance of the emergency service belonging to the hospital.
You can call the emergency service from +90392 650 26 30.