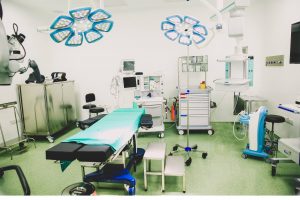 Dr. Suat Günsel University of Kyrenia Hospital aims to utilize the advanced diagnosis and treatment methods in line with the world to provide a reliable and quality health service for the sustainability of a healthy life.
Our operating room is in line with the international standards and for a successful operation, latest technology devices, laminar hygienic airflow unit to prevent risk of infection, hepa filter, ventilation system with heat and humidity controls, antibacterial floor and wall covers, latest technology operation tables that are in accordance with the human anatomy and all the equipment provided by modern medicine are available.
There are three operating rooms and one delivery room with an experienced physician, nurse and technical personnel and we can serve to a wide variety of patient groups between 0 to 100 of age and 0-200 kg weight with high risk, for a long period (10 hours and more) 7/24.
In our operating room; general anaesthesia, regional anaesthesia (spinal block, combined epidural block, epidural block) and also, local methods for the operations on arms and hands and painless labour techniques are applied by our experienced anaesthesia team for cardiovascular surgery, neurosurgery, orthopaedics and traumatology, urology, general surgery, all kinds of endoscopic surgery, eye surgery, ENT surgeries.
With the perfectionist service approach, our hospital serves to our community in TRNC and contributes to the health tourism. With the advanced technology infrastructure of our operating room, we provide successful surgical applications to our patients.